Fan Art!

This article is fanart! This means that it was created by fans of Rainbow Magic and it is not officially part of the series.
Pasha the Pineapple Fairy is the third fairy in The Ice Cream Flavor Fairies.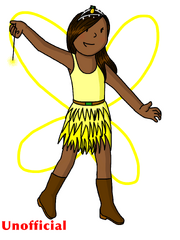 Appearance
Pasha has African dark skin long brown straight glossy hair with a special pineapple tiara, her wings have a yellow tint, she wears a yellow furry dress with a brown belt and yellow boots and pineapple ice creams come out of her black wand. Her magic item is a pineapple charm.
Her fashion resembles Darcey the Dance Diva Fairy's fashion Except for these things: Her dress is yellow, has a brown belt, yellow boots, Brown hair and special tiara.
Powers and Abilities
The seven standard powers of a fairy
Makes sure that pineapple ice creams are not poisoned, not sour. not too sticky and not dull
Trivia
She has the namesake, same outfit and appearance of the Yummi Land's Ice Cream Pop Girl, Pasha Pineapple