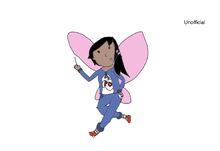 Gamora the Superpower Fairy is the first fairy in the Superhero Fairies.
Appearance
Gamora has medium skin, pink wings, and black hair. She wears a yellow shirt that says "POW" on it, a blue jacket, blue jeans, and red sneakers. She does wear her magical medal on the cover as well.
Object
Gamora has a gold medal that has a picture of a lightning bolt with a red ribbon. It helps superheros in comics and movies have superpowers. Without it, heroes won't have powers.
Trivia
She is named after the Guardians of the Galaxy character, who is CupcakeDancerTheSecond's favorite superhero, as revealed in her upcoming Disney Infinity video.
She is a helper of Samira the Superhero Fairy.